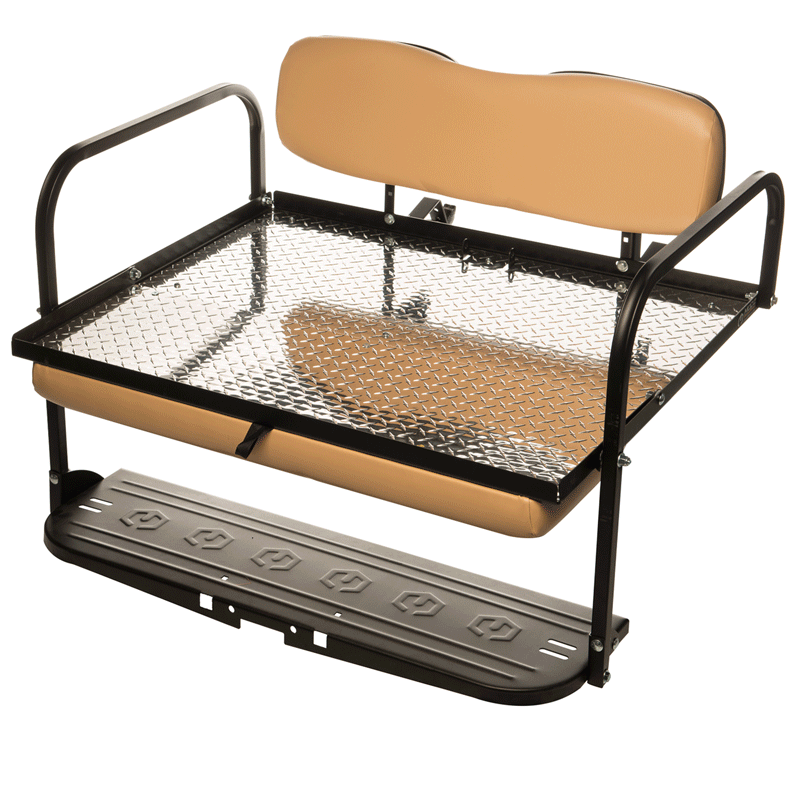 All American Club Car Rear Flip Seat Kit by Modz™ – Choose Your Model & Color
Improve your golf cart's storage capacity and passenger comfort with the newly redesigned Modz™ All American rear flip seat kit.
The Modz™ All American rear flip seat kit is designed specifically for Club Car DS and Precedent golf carts. The All American seat kit is built from a precision laser cut frame with no welds for greater strength even under the most extreme loads.
The rear flip seat kit features a durable diamond plate cargo bed and a 360-degree bed rail to help keep your cargo secure while on the move. The newly redesigned All American rear flip seat kit also features a more versatile one-piece foot rest with convenient pre-cut cargo strap holes, receiver hitch slot and integrated rear seat belt tabs.
Features:
Simple bolt-on design – no cutting or welding required
Precision laser cut, weldless frame for improved strength
Marine grade UV resistant vinyl cushions
360-degree bed rail around cargo deck for secure storage
Corrosion resistant matte black textured powder coated frame
Integrated rear seat belt tabs with optional retractable seat belts
Versatile one-piece footrest with optional receiver hitch and grab bar
Designed, manufactured & assembled with pride in the USA