"TOURING" 3-Sided Vinyl Enclosure for EZGO RXV (Choose Color)
Make

:

EZGO
Model

:

RXV
Material

:

Vinyl
Style

:

Over-the-Top
EZGO RXV "Touring" Enclosure
An enclosure can be a tricky item to order so we recommend following our checkout guide.
1. Choose your EZGO RXV model (Old Style tops will be flat - New Style Tops will have a "Bubble or Dome")
2. Choose your color
3. Choose if cart is outfitted for Golf or equipped with Cargo Box/Rear Seat. (NOTE: Carts with boxes or rear seats will be considered "Straight Back style and enclosure will drop off top between seat backs or bed/seat. If you wish to cover passengers in rear of cart you will need a "longer" top which those style enclosures are found in our 80" listing).
Details:
High Quality vinyl over-the-top (enclosure can be removed when not needed)
Roll up sides when not needed or roll them down when inclement weather is present
Vinyl zipper wraps around front struts for custom fit
Model specific cuts provide factory custom look and feel (Not a flimsy universal design)
3-Sided design to fit carts with windshields installed
Durable and adjustable hooks at bottom attaching enclosure to undercarriage of cart.
Clear windows provide 360 degree visibility when folded down.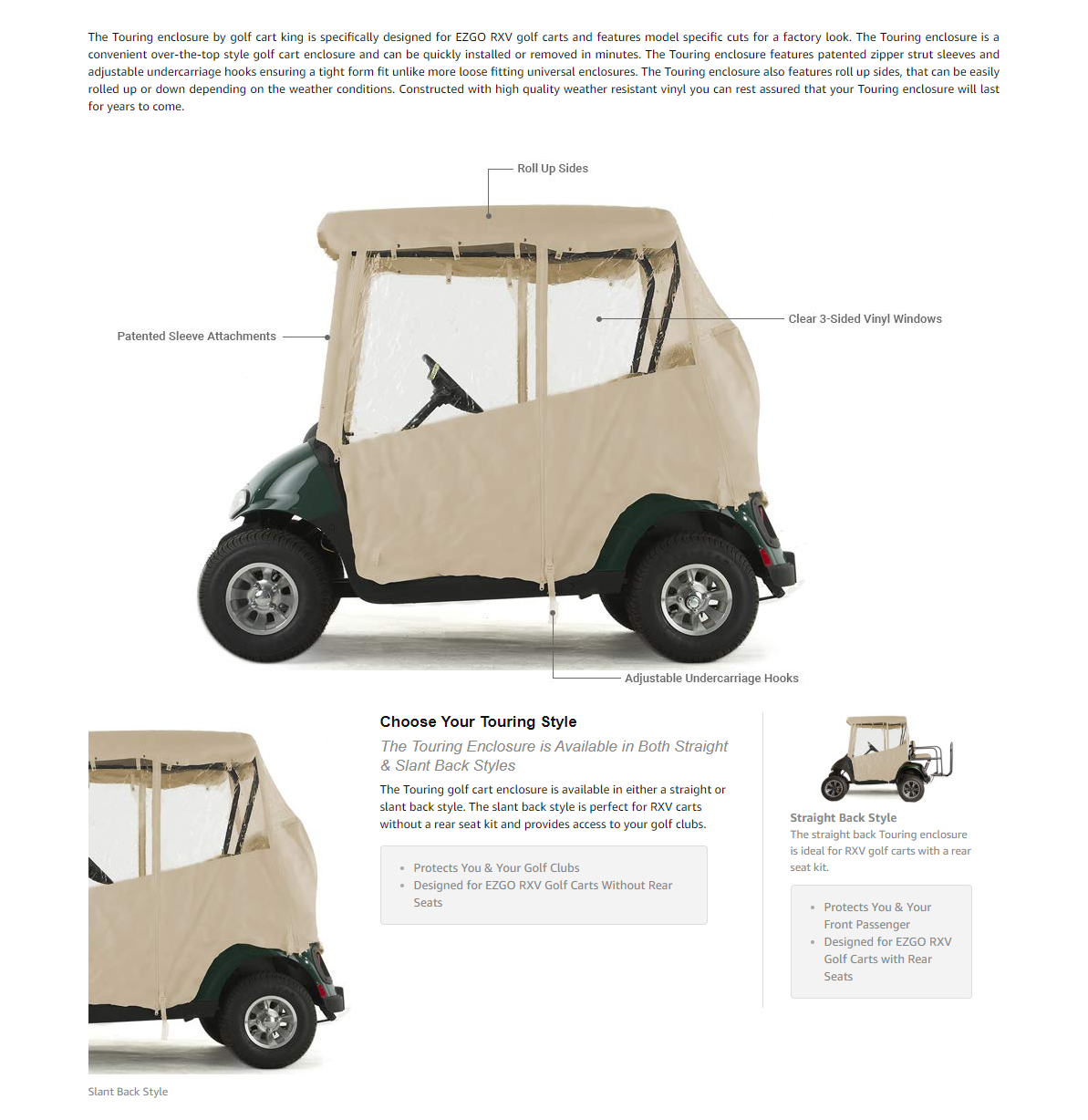 EZGO RXV Golf Cart Enclosure | Vinyl Form Fitted for Golfing

Tired of being stuck in the rain or bundled up in the cold? Ba...

Easy-Roll Retractable Golf Cart Enclosure

No more rolling your golf cart enclosure up by hand. Simply pu...

Review of the Classic Accessories Golf Cart Enclosure - etrailer.com

http://www.etrailer.com/Covers/Classic-Accessories/05296372052...
---
EZGO RXV Golf Cart Enclosure | Vinyl Form Fitted for Golfing
05:28
Tired of being stuck in the rain or bundled up in the cold? Barry at, DIY Golf Cart, installs a white vinyl over-the-top enclosure on this EZGO RXV. The golf cart enclosure being installed is 3 sided, form fitted, and manufactured for standard golf cart tops while utilizing the cart for golf applications. If your EZ GO RXV has a rear seat, cargo box, or long/extended top, you should check out one of our other videos. We also sell the durable Sunbrella enclosures as well as the Door Max which is similar to Door Works. Shop our full line of enclosures online at: https://diygolfcart.com/accessories/enclosures-storage-covers/ See our Vinyl over-the-top enclosures for EZGO, Club Car and Yamaha golf carts at: https://diygolfcart.com/custom-3-sided-vinyl-enclosure-over-the-factory-top-choose-cart-model-color/
Customers Also Purchased
Price

$19.00 $14.95

Rating:

Replacement golf cart propane cup holder. Enables you to use a 16.4oz propane cylinder in your current cup holder. Fo...

Price

$84.99

$54.95

Rating:

Piezo (push-button) ignited propane heater 5,000 B.T.U. ceramic heater element Lasts up to 7 hours with 16.4oz prop...

Price

$156.00 $109.95

Rating:

EZGO TXT Custom Dash (Wood Grain) Fits 1995-2014 EZGO TXT golf cart models. Also adapts to Medalist Golf Carts. 1 P...