"TOURING" 3-Sided Vinyl Enclosure for Yamaha G29 Drive (Choose Color)
Make

:

Yamaha
Model

:

G29 Drive
Material

:

Vinyl
Style

:

Over-the-Top
Yamaha G29 Drive "Touring" Enclosure
Details:
High Quality vinyl over-the-top (enclosure can be removed when not needed)
Roll up sides when not needed or roll them down when inclement weather is present
Vinyl zipper wraps around front struts for custom fit
Model specific cuts provide factory custom look and feel (Not a flimsy universal design)
3-Sided design to fit carts with windshields installed
Durable and adjustable hooks at bottom attaching enclosure to undercarraige of cart.
Clear windows provide 360 degree visibility when folded down.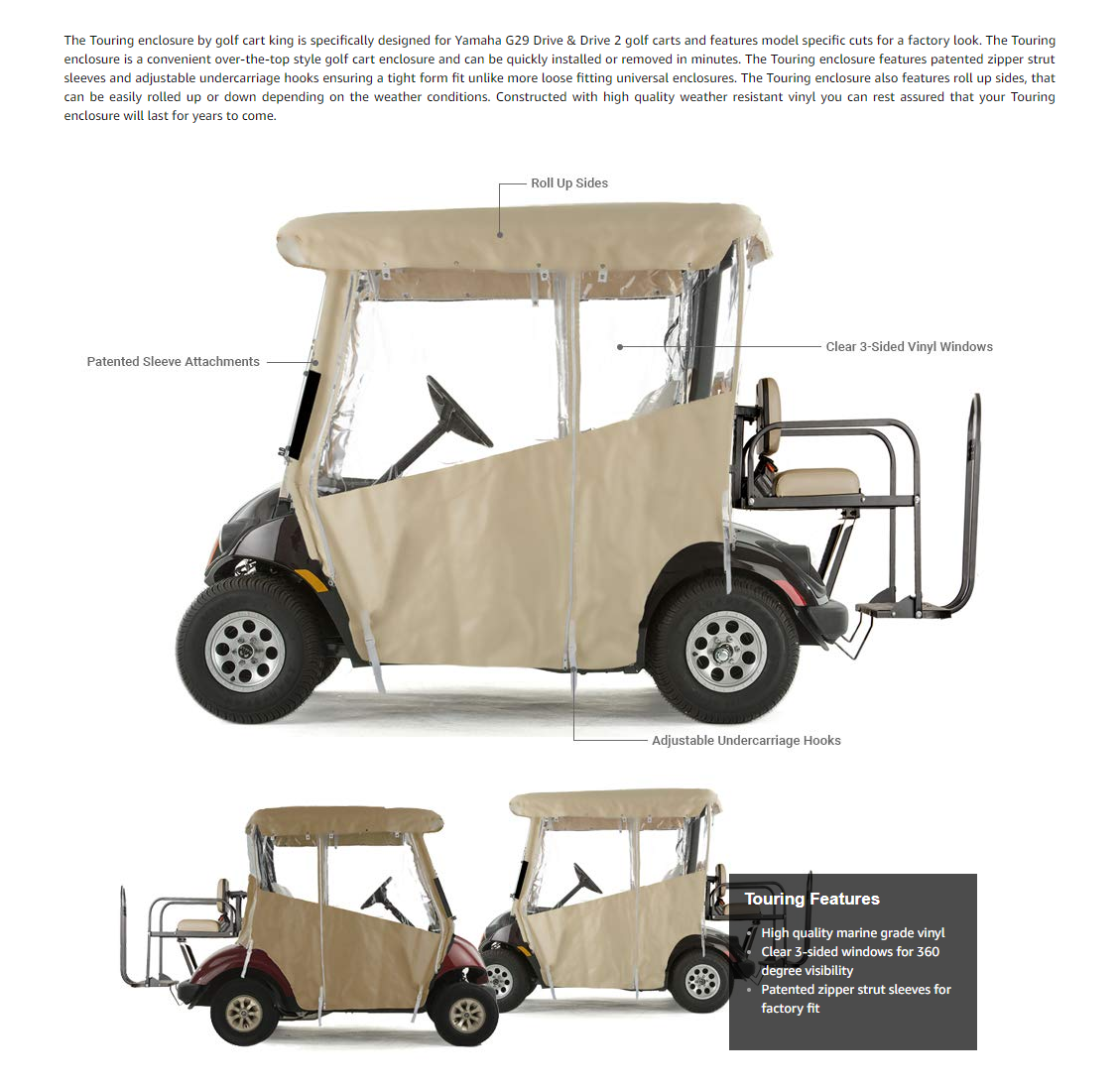 EZGO RXV Golf Cart Enclosure | Vinyl Form Fitted for Golfing

Tired of being stuck in the rain or bundled up in the cold? Ba...

Easy-Roll Retractable Golf Cart Enclosure

No more rolling your golf cart enclosure up by hand. Simply pu...

Review of the Classic Accessories Golf Cart Enclosure - etrailer.com

http://www.etrailer.com/Covers/Classic-Accessories/05296372052...
---
EZGO RXV Golf Cart Enclosure | Vinyl Form Fitted for Golfing
05:28
Tired of being stuck in the rain or bundled up in the cold? Barry at, DIY Golf Cart, installs a white vinyl over-the-top enclosure on this EZGO RXV. The golf cart enclosure being installed is 3 sided, form fitted, and manufactured for standard golf cart tops while utilizing the cart for golf applications. If your EZ GO RXV has a rear seat, cargo box, or long/extended top, you should check out one of our other videos. We also sell the durable Sunbrella enclosures as well as the Door Max which is similar to Door Works. Shop our full line of enclosures online at: https://diygolfcart.com/accessories/enclosures-storage-covers/ See our Vinyl over-the-top enclosures for EZGO, Club Car and Yamaha golf carts at: https://diygolfcart.com/custom-3-sided-vinyl-enclosure-over-the-factory-top-choose-cart-model-color/