MODZ™ front seats are designed with style and comfort in mind.
Designed to fit five different golf cart models, these front seats can be easily installed.
Club Car Precedent
EZGO TXT
EZGO RXV
Yamaha Drive (add $60)
Yamaha Drive2 (add $60)
Simply choose your golf cart model from the menu, then select the base color and accent color.
What makes MODZ™ seats so great?
Virgin foam
Thicker cushion than standard factory seats (OEM)
Premium, weather & UV resistant vinyl
Cell phone/accessory pocket in the front (near your leg)
Bolt-on design - so no stapling covers. If you've ever had to install replacement seats, you can appreciate this time-saving facet of a better seat
Recessed T-nuts in the wood
Bolsters to create contouring that will keep you in place without being intrusive
Made in the USA
(The difference between the FS1 and FS2 is merely the fabric design - FS1 if you like stylish curves. FS2 if you like smooth lines.)
** If your Club Car Precedent seat bottom is made of Plastic, you will NEED to purchase new style handles (103833901). If your seat bottom is wood, please use existing. **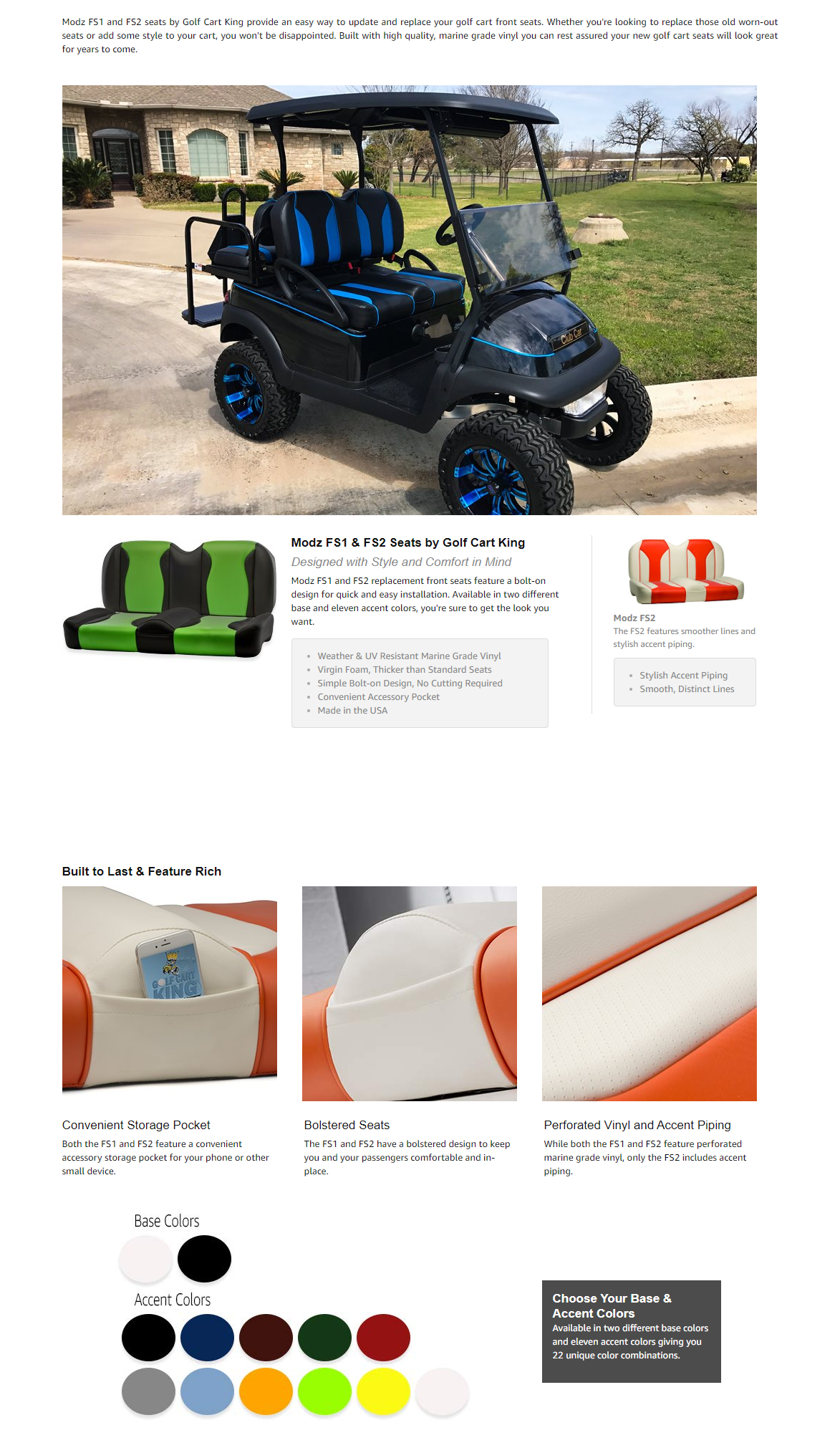 Modz FS1 & FS2 Golf Cart Front Seat Covers

Modz FS1 & FS2 seat covers by Golf Cart King are designed with...
---
Modz FS1 & FS2 Golf Cart Front Seat Covers
02:01
Modz FS1 & FS2 seat covers by Golf Cart King are designed with style and comfort in mind. Designed to fit five different golf cart models, these front seat covers can be easily installed on the following make and models: -Club Car Precedent -EZGO TXT -EZGO RXV -Yamaha Drive -Yamaha Drive2 What makes Cart Modz seats so great? -Virgin foam -Thicker cushion than standard factory seats (OEM) -Premium, weather & UV resistant vinyl -Cell phone/accessory pocket in the front (near your leg) -Bolt-on design - so no stapling covers. -Made in the USA